Give to Second Baptist Church of Moorestown or Your Favorite Ministry
Download the Tithe.ly giving app or click the "Giving" button to give.
Your gift is safe, secure and goes directly to our church.
Plus, you'll be able to track all your gifts, setup recurring giving, and more!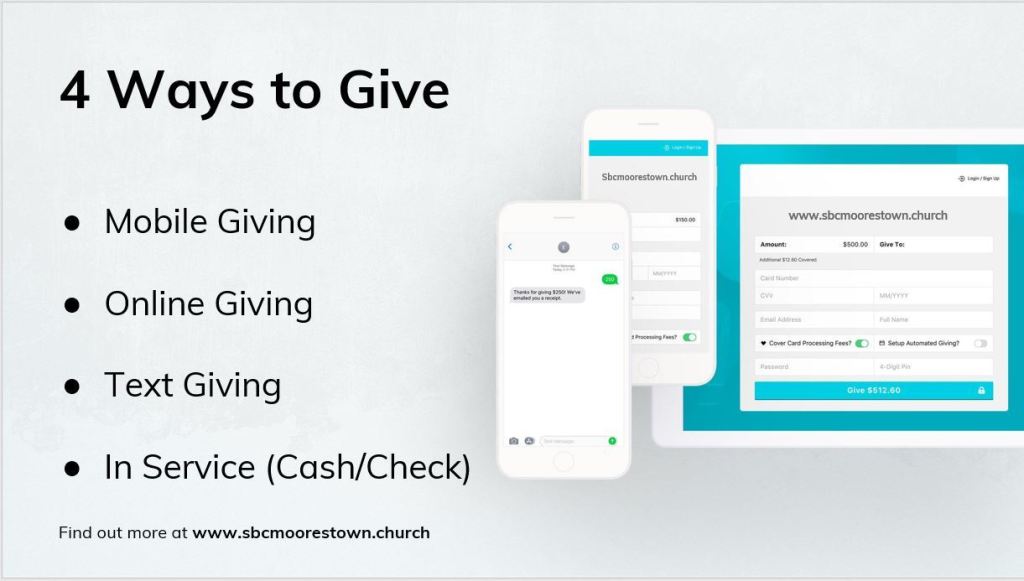 Out of Checks? No cash on hand? Give securely online and be credited for it. Tithe.ly is an online giving tool that makes it simple to give to your church. Give securely from any where at any time. Patrons wishing to use their cellphones can retrieve the app for their cellphones here.
"A tithe of everything from the land, whether grain from the soil or fruit from the trees, belongs to the LORD; it is holy to the LORD." Leviticus 27:32
Tithing
The money we earn belongs to God; it is in trust to us from Him. We earn money by the abilities God has given us, and by making use of the natural resources of the Earth, all of which are God's creation.
The principle of tithing, giving the Lord the first ten percent of one's income, is the main emphasis of stewardship. This is a simple concept going back to Leviticus 27:30-33, ten percent of everything the land produced was to be set aside to be used as God commanded. Tithing provides the church with the opportunity to meet all institutional needs and to participate to its fullest extent in supporting missions at home and around the world. Tithing was practiced four hundred years before the law of Moses, "Of all that thou shalt give me, I will surely give the tenth unto thee" Genesis 28:22. Tithing was incorporated into the law. "The tithe… is the Lord's, it is holy unto the Lord. Leviticus 27:30.
There are many biblical passages such as I Corinthians 9:13-14; Numbers 18:24; I Corinthians 16:2; Hebrews 7:8 that plainly show that God's plan of church finance is for His people to bring tithes to His house for His work. "Upon the first day of the week let everyone lay store as God has prospered him." I Corinthians 16:2. God teaches that every one should support His work. If we believe in God's plan for our life in everything, then we should believe that every member of the church should be a tither and give the Lord one tenth of his income. If we love Christ, we keep His commandments. In additions, Matthew 23:23 teaches us that acceptable living, living right, is also a part of our overall tithing.
Our tithes express our love and trust for the Lord and should not be looked upon as a burden. Tithing places one on the top rung of the giving ladder, representing the Old Testament admonition that God be given time, talent, and treasure. "Test me in this," says the Almighty, "And see if I will not throw open the floodgate of heaven and pour out so much blessing that you will not have room enough for it." Malachi 3:10.
In addition, tithing is an avenue to liberation; it provides a way out of despair, helplessness and hopelessness. Tithing provides resources, support services, and care for individuals incapable of caring for themselves. It is also an investment of resources in enterprises committed to the enfranchisement, rather than enslavement, of its people.